Sick Kitsch: More Than the Body in Question
Sick Kitsch:
Kitsch: More Than the Art by Odd Nerdrum, Jan-Ove Tuv, Bjørn Li, Dag Sohljell, Tommy Sørbø, and Maria Kreyn (Oslo: Schibsted Forlag, 2011)
The Sick Rose: Disease and the Art of Medical Illustration by Richard Barnett (New York: D.A.P./Distributed Art Publishers, 2014)
Crucial Interventions: An Illustrated Treatise on the Principle & Practice of Nineteenth-Century Surgery by Richard Barnett (New York: Thames & Hudson, 2015)
The Body in Question by Jonathan Miller (New York: Random House, 1978)
Odd Nerdrum: Self Portraits by Allis Helleland, aphorisms by Odd Nerdrum (Stockholm: Atlantis, 2011)
How We Cheat Each Other: Six Short Stories by Odd Nerdrum (n.p.: N-Press, 2008)
Encyclopedia Anatomica: A Collection of Anatomical Waxes with contributions by Monika Düring & Marta Poggesi, photographs by Saulo Bambi, Museo di Storia Naturale dell'Universita di Firenze, sezione di zoologica La Specola (Köln: Taschen, 2014)
Body Worlds: The Anatomical Exhibition of Real Human Bodies, Catalogue of the exhibition by Gunther von Hagens and Angelina Whalley (Heidelberg: Institut für Plastination, 2002)
Regional Block: A Handbook for Use in the Clinical Practice of Medicine and Surgery by Daniel C. Moore, M.D. (Springfield, Illinois: Charles C. Thomas Publisher, 1962)
More Than the Body in Question
The Kitsch Painter should not be judged on national, racial or religious grounds in his depiction of life-- but on the basis of timeless qualities. The Kitsch Painter is not protected by the time in which he lives. He strives to represent history's most sublime qualities, and should be judged in accordance with these. A work of Kitsch is either good or bad, and good Kitsch must not be classified as Art. This would be an error of judgment. Kitsch is not Art. Kitsch refers to the sensual and the timeless. The Kitsch Painter is committed to the eternal: Love, death, and the sunrise. Innovation is of no importance, nor is originality. Going in depth is the goal, for in the depiction of nature itself lies the individual expression. Because Modernism and Art are the same, Kitsch is the savior of talent and devotion. --Odd Nerdrum, Kitsch--The Difficult Path (23)
A Kitsch person's intention is to create a masterpiece. (289)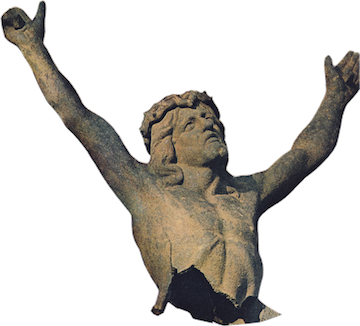 Sick Kitsch: More Than the Body in Question—November 26, 2017--original blog post
My recent efforts in bibliolage have gone in the direction of Odd--that wild Norwegian painter, Odd Nerdrum—and in the process I became (or remain) Odd King.
For an intro to Mr. Odd, have a look at the Nerdrum Museum at: http://nerdrummuseum.com
See especially the page there called "What is Kitsch?" where you will get a grasp on the be-all and end-all of kitsch and take in the cornucopia of its effects (or is it cornucoprophilia?).
Mr. N has pondered this topic (his version of it) at least since 1998, but in 2011 he published a consummate study called Kitsch: More Than Art, co-written with Jan-Ove Tuv and others.
This became my domain of bibliolagic kitsch-consciousness.
Kitsch grows from figurative art in the hands of the deft and the blonde.
It's a mushy play for the art market dollar.
Odd and his kind know how to use soft-focus and soft-brain in a way that convinces the patron that the real thing has been seen.
It's the effect of life and idea and lovely form and, above all, profundity--all in heavy daubs of paint.
Nerdrum and Tuv notice this effect in a long lineage of artists—precursors—as well as in Odd and the work of his students. (Above is Andrew Wyeth—also see my Commedia dell'Arte of Andrew Wyeth.)
It's about how sentiment dresses the human form, telling stories of the BIG THINGS, like life and death. 
And I respect that.
Of course, one could call it sly or cynical or sick.
And I respect that.
I took the affront head on—with dead and diseased and sliced-up bodies.
Plasticination and medical illustration and anatomical simulations; these are all, surely, in the room with Mr. N's kitsch, and so I put them on his pages.
Cut close.